Soft pull technology for your motorsports website.
Turn website visitors into leads by leveraging soft pull credit technology on your motorsports website. Provide your customers with an instant value and turn window shoppers into actual leads.
Schedule A Demo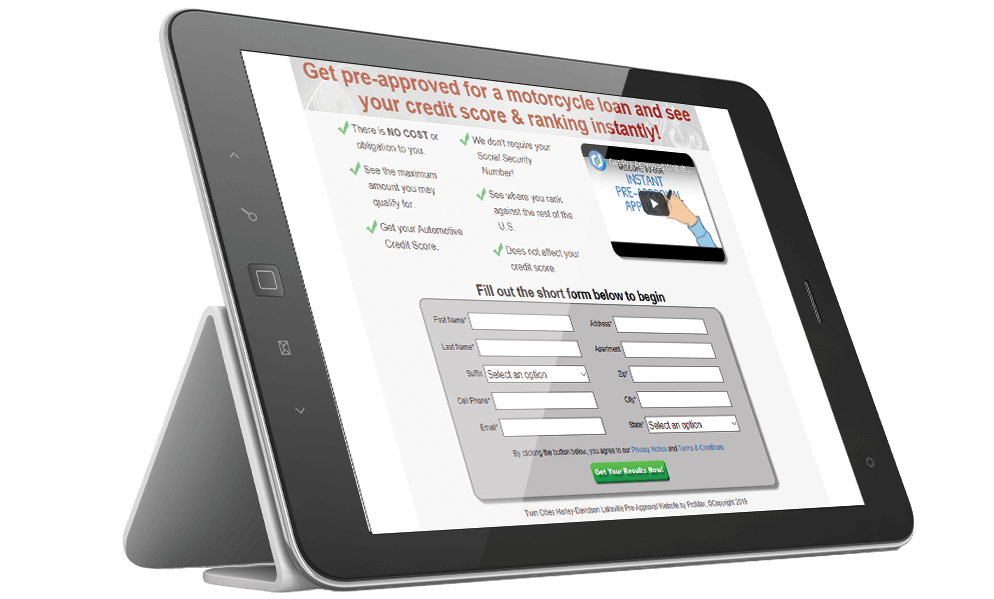 Increase Leads, Increase Value, Increase Sales
Our instant app plug-in can be placed anywhere on your motorsports website. This form enables website visitors to get instantly pre-approved and also see their exact credit score. It is quick and easy and doesn't require your customer to provide their Social Security Number. All your customers have to provide is their name, address, and email and they will instantly see their pre-approved status.
Learn More About Your Website Visitors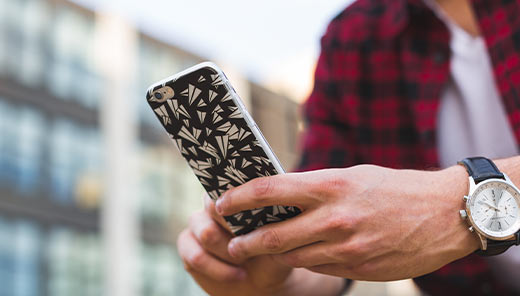 Immediate Results
With our soft pull instant app you'll get to know more about the visitors on your website. Besides receiving the standard lead info you'll get the customer's credit score, any vehicle payment information, auto interest rate, original vehicle loan amount, estimated payoff, term of loan, if joint application and number of times they paid late in the last 24 months.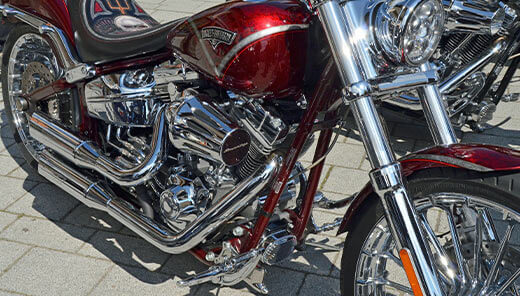 Valuable & Unique Information
Our motorsports instant app plug-in is more than standard website forms as it gives your website visitors an incentive to fill out the form. They get to see their credit score. Using this application you enhance their shopping experience and speed up their motorsport purchasing process. Breakaway from the standard, boring forms with our Motorsports Soft Pull Instant App and see results.
Join many satisfied
dealers that use our Motorsports
Instant App!
There are so many reasons to use our motorsports instant app on your website. Here are just a few:
High ROI
You get high quality leads with unique customer info
Provides visitors an incentive without having to provide sensitive information
Leads can be delivered into any CRM/ILM
Embeds on any website with a simple line of code
We'll provide you advertising graphics to use on your website, through email or on social media advertising
And So Much More!
Dan Winston
General Manager
Twister City Harley-Davidson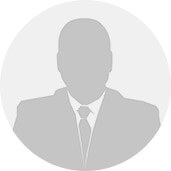 "From the moment we started using the Motorsports Instant Application we saw immediate results! We got leads the day we put it up on our site and we were delivering motorcycles from it within two weeks. Customers love how short the form is and this is quickly becoming the #1 form filled out on our website! The Instant App has not only increased our business, but we are gathering more info from customers that were on our website. The Blackhawk Digital team is awesome to work with. If you are considering using this application, it's a no brainer!"